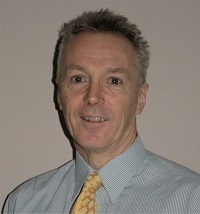 Consumer and brand merchandising benefits from the application of hologram-based technologies, says Dr Paul Dunn, chairman of the International Hologram Manufacturers Association (IHMA).
Undoubtedly, some of the greatest global sporting events are the Olympics and the FIFA World Cup. Virtually every Olympics event since the Atlanta Games in 1996 has had its licensed product merchandise – from caps, tee-shirts, tracksuits through books, programmes, badges to bags, scarves and cuddly toys – protected and tracked thanks to holographic technology.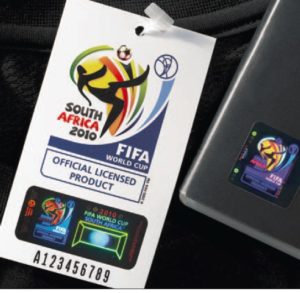 Next year's Tokyo Olympic Games, where visitors will be encouraged to avoid counterfeits by buying Olympic merchandise only at licensed stores and kiosks, will see products featuring anti-counterfeiting labels, which will carry a discreet self-adhesive authentication hologram. The official merchandise for that other great sporting occasion – the FIFA World Cup – will also continue to benefit from holographic technology.
This was first used for the World Cup in 1998 in France, followed by the 2002 competition in Tokyo and Seoul and then in 2006 in Germany. FIFA regards the illicit sale and distribution of tickets as a serious issue and in cooperation with local authorities, including consumer protection agencies in numerous countries, strives to identify and curb unauthorised ticket sales. So, match tickets for the 2018 finals in Russia saw security elements including a barcode positioned on the right-hand side and a hologram next to the sector map feature.
 Benefits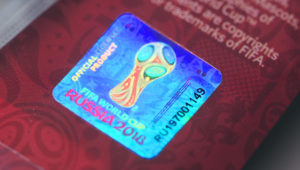 The solutions offered by the holographic companies are similar in concept and comprise not only the production of uniquely numbered security labels and hang tags complete with holograms (and, increasingly, a range of other security features as well) but, critically, a fulfilment and tracking service. Today, there is a much greater drive to provide brand owners with useful customer data – business intelligence is the new holy grail. There, we must look new holographic technologies not simply as a label or hang tag but as data enablers.
Moreover, holographic companies can utilise the unique identification on each label to maximize the data it offers about the product's supply chain. This can be particularly effective in the case of officially licensed merchandise or in the use of contact manufacturing. Third party manufacturers often require reporting back to the brand owner their unit volumes to calculate royalties.
The latest generation of labels are called off by the licensees and data on the quantities provided to each, including the unique number of each label, is provided to the licensors who then bill the licensees (the contracts generally involving an initial licence fee and then a royalty per item of merchandise sold).
This system offers benefits to both parties. It enables the licensor to protect their brand, which is not only an important marketing tool for raising awareness and generating loyalty but is also a major revenue-earner. It enables them to collect the royalty payments from their licensees based on the number of labels purchased – and hence the number of merchandised goods intended for sale.
The system provides a strong deterrent for preventing not only counterfeiting, but also grey market diversion, as under-reporting becomes highly visible and out of territory sales are easily traceable. And using enforcement teams, the authenticity of official merchandise can be checked and verified in the field.
Licensees, meanwhile, benefit because their investment in the brand is protected from counterfeits. With licensing fees, minimum guarantees and safe, quality raw materials, officially licensed merchandise typically command a premium price making them an immediate target for counterfeiters However, it is the use of official licensees and their quality goods that maintain the safety of the end consumer as well.
But this should not detract from the fundamental impact holography has on thwarting the counterfeit trade surrounding some of biggest sporting set pieces. One of the most glamorous and popular sports on the planet, Formula One motor racing, uses holography to protect its sacrosanct brand identity – many of the top racing teams have featured security holograms to protect their official merchandising from counterfeiters. Ferrari and other teams have produced gift sets for fans featuring holograms on the back of the product along with an official logo as a mark of authenticity.
In the UK, De La Rue Holographics, working for Copyright Promotions Sport (CPS), provides a highly secure brand authentication solution for The Football Association enabling it to track and manage the England Three Lions brand once it has been licensed, protecting it against the threats from counterfeit, grey market diversion and piracy.
There's little surprise to learn that it was in the USA – and in the major sporting leagues – where the sports merchandising industry we recognise today really took off at the beginning of the 1990s.
Today, all the major US leagues have embraced holography to varying degrees to protect reputation, brand image and, importantly, revenue streams. The big four: American football (NFL), baseball (MLB), basketball (NBA) and hockey (NHL) all have successful licensed product protection programmes with OpSec Security for nearly 20 years to monitor royalty income while several the smaller leagues, such as soccer, have followed suit.
It's a sobering thought that the annual turnover in licensed merchandise sales runs to several billion dollars within the major leagues, so it makes sense that revenue streams should be suitably protected, and they have been, for several years. Sports Business Simulation (SBS) reports that the size of the sports business industry reaches an estimated value of $213 billion – twice the size of the US auto industry and seven times the size of the movie industry.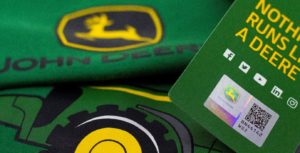 Holographic technology scores beyond the sporting arena, too. Agricultural machinery manufacturer John Deere uses holographic based product authentication labels and hangtags to identify and protect officially licensed merchandise in global retail channels. Materials and speciality additives company Eastman has linked up with Groupe Rocher to produce a stylish cosmetics' compact that offers reassurances to the consumer that they are purchasing an authenticate product. Vape liquid manufacturer Kind Juice has linked up with a label manufacturer to develop a new packaging shrink sleeve that incorporate holographic security products as both an anti-counterfeiting measure and feature to engender consumer band trust.
Value
There's no doubt that everyone involved in the supply chain sees the value of security holograms and is reassured by their presence on products and/or the packaging. For instance, the Edrington Group is the latest in an ever-growing line of international drink manufacturers to utilise tamper evident, 3D holographic labels from De La Rue as part of a comprehensive anti-counterfeit solution, which ensures that capsules on bottles of its renowned Macallan Highland Single Malt Scotch Whisky are security sealed for maximum consumer protection.
However, with advances in coding and serialisation, the ability to incorporate Quick Response (QR), data matrix and other types of code in to holograms further enhances the role they can play in supply chain control. Companies must contend with challenges stemming from supply chain security lapses (which can result in theft, diversions and product recalls), counterfeiting and regulations. Moreover, these factors can impair the reputation of companies by adversely impacting on profits, brand credibility and research initiatives.
With industry, regulatory authorities, security agencies and governments around the world realising the significance of implementing product track and trace systems which build on product serialisation, it becomes mandatory for those in the supply chain to comply with legislation pertaining to the locations in which they operate. Even where this is not mandated by law, tracking and tracing systems improve defences against counterfeiting and other infringements as well as improving distribution and inventory control.
Typically, distribution systems run the gamut of manufacturers, wholesalers, distributors, stockists and retail outlets before products reach the end user or customer. Ensuring product protection, including authentication capabilities, across various touch points throughout the supply chain through track and trace implementation, is important to address the challenges industry faces. Apart from providing visibility and full traceability from manufacturer to consumer, successful serialisation programs can prove to be a key differentiator and a clear competitive advantage for companies.
Today, QR codes, which use four standardised encoding modes (numeric, alphanumeric, byte/binary and kanji) to efficiently store data, are linked with holograms to provide integrated track and trace and authentication solutions which, among other benefits, can help governments improve excise duty collection and minimize product counterfeit, contraband and illegal parallel trading by enabling tracking of each saleable item from its point of origin to the point of sale. Incorporating these codes, or other data matrix codes, in to a hologram delivers authentication of the product and the code in one feature, making this an efficient and cost-effective method of product protection.
Systems like Andrews & Wykeham's THESEUS™ can also be applied as an anti-counterfeit solution not related to taxation for such market segments as pharmaceutical. Not only do systems like this one assist in maximising tax collection and reducing counterfeits, they are also effective tools for the government to leverage public confidence. THESEUS™ for example includes an open Internet interface, which enables any member of the public to verify products are genuine and duty-paid and uses high-security labels with holographic and security print features, carrying two-dimensional QR-format barcodes with item-specific information. These codes are protected from unauthorised access and reproduction by state-of-the-art electronic digital signature (EDS) technology.
Elsewhere, companies such as MTM Technologies Inc have pioneered other coded holography solutions such as the HoloTag to protect against brand piracy and product theft in the supply chain within the framework of its integrated security concept. Combined with other technologies, the hologram/taggant combination, which can work on smartphone, offers visible proof of any tampering with an individual security code for authentication.
Indeed traceability is one of the key challenges for brands, so innovators such as SURYS have developed the likes of the Optotrace track and trace platform to bring heightened levels of transparency to the supply chain, protecting revenue streams and providing logistics operators with valuable information that can be quickly scanned using portable devices at key stages of a product's journey from the factory to the hands of the consumer.
Not only does holography protect products and routes to market against the threat of counterfeiters but also offers manufacturers a highly effective way to ensure their products catch the eye of consumers on crowded retail shelves.
Continuing advances
Holography is limited only by the constraints of the imagination. For instance, we are seeing continuing advances in mobile authentication. While it's not fool proof, the industry is on the cusp of a breakthrough to change the ability of customs officials to verify product at borders.  For the time being, the value is the combination of optical security with digital security provided by barcodes and serialisation.
Elsewhere, continuing advances in film coating and manufacturing technology have opened the door for new opportunities for embossed holographic materials used for consumer products, while a wide variety of specialist origination techniques offer an infinite variety of colourful 3D visual effects, ranging from the bright and stunning to more subtle graphic features.  API Holographic Ltd's HoloFOIL™, for instance, is among the current decorative holographic foils used for packaging where maximum shelf appeal is an important element of the marketing mix, particularly among premium products, but increasingly with commodity consumer items.
Holographic foils can be used to great effect to differentiate product at the point-of-sale -something Colgate Palmolive recognised when they launched its new 'Total and Whitening' range of branded toothpaste into an already crowded market place. Aimed at the premium end of the market, Colgate Palmolive needed its high-quality brand to stand out from the volume market.
The consumer giant uses holographic foil to strengthen the high-quality values of the 'Total and Whitening' brand while ensuring the packaging catches the eye of consumers scanning supermarket shelves. The distinguishing visual effects holography brings were identified as a powerful tool in building a strong and powerful message and reflect a premium value. The visual value the foil adds to brand messaging is difficult to pin down but certainly helps to contribute to the 'Total and Whitening' brand position as a sector leader, instantly recognisable on retailers' shelves the world over.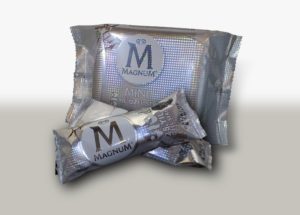 In the global food sector, Unilever's Magnum ice cream brand has incorporated holography in its brand strategies to provide authentication success and consumer appeal. Packaging holograms incorporate a portfolio of optical features including full visible dynamic effects, emboss effects producing depth, kinetic effect, a Fresnel effects, 2d/3d effects, 3D text, a gradient effect, animated flower and text, and an animated covert laser readable effect together with many other features.
In other sectors, Hasbro Games has used US-based Vacumet Corporation's HoloPRISM® holographic foil technology to ensure boxes of its MONOPOLY: The Disney Edition and other packaged games catch the eye of shoppers of all ages in the busy retail environment, while Vacumet's holographic packaging concept for Trivial Pursuit 25th Anniversary Edition has previously been commended for its added value appeal for brand design and packaging.
If you take a walk down the fragrance aisles of any store or department you will see a wide selection of products whose manufacturers have turned to holography as an integral part of their strategy to attract consumers. Dior and Givenchy, who's 'Addict' and 'Very Irresistible' products respectively (both women and men's versions) have been presented in holographic boxes for several years, while Lancôme uses holographic packaging for its popular 'Magnifique' brand. Mariah Carey's 'Lollipop Bling' uses holographic technology to accent the printing while Britney Spears' 'Radiance' makes use of the print to accent the holography.
Whatever form it takes, holographic security labels and tagging systems are emblematic titans of authenticity, consistently proving their worth in safeguarding billions of dollars' worth of merchandise and brand reputation – something that you can't put a price on. The future continues to look bright for this highly flexible, versatile and cost-effective technology.