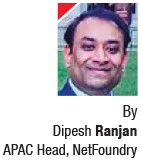 Businesses in Asia Pacific (APAC) are actively considering increasing their investments in networking technologies based on the cloud. In a study by technology analyst firm IDC they claimed that worldwide SD-WAN infrastructure and services revenues will grow at a compound annual growth rate (CAGR) of 69.6%, to reach $8.05bn in 2021. That is an impressive figure.
IDC says that in Southeast Asia, almost 56% of organisations have already deployed, or are planning to deploy, SD-WAN. Almost 30% of those surveyed singled out the policy-based control and WAN optimisation capabilities of SD-WAN as top drivers for implementing the technology.
IDC Asia-Pacific says that most WAN traffic today – to and from branch and remote sites – is destined for the cloud on either hosted applications or public cloud.
It's not surprising, since the old-fashioned WAN was designed to start at branch level and end at the datacenter and was never designed to support the sheer complexity of cloud-driven traffic. IDC pointed out in their survey that organisations which are still using traditional networks are facing major challenges on performance and operational difficulties.
The network node has to support vast numbers of new applications and massively growing business units as organisations expand, diversify and respond to the new problems and workloads such as the Internet of things (IoT)…Click here to read full article.