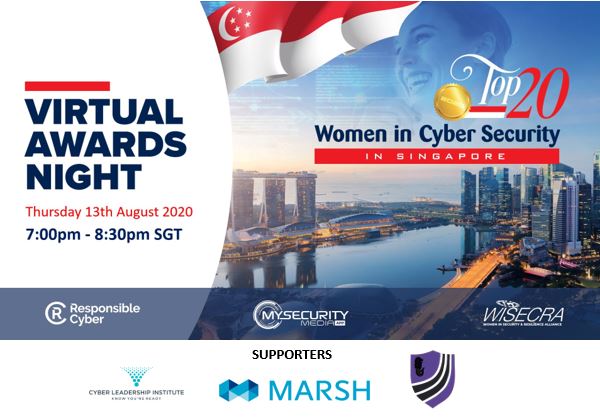 The 'Top 20 Women in Cyber Security in Singapore' was awarded this Thursday 13th of August 2020 at 7pm SGT as part of a global 'Top Women in Cyber Security' initiative established to recognize women who have advanced the security technology industry.
The winners represent women in cybersecurity in Singapore for 2020 who have made significant contributions, advanced the industry, and shaped the path for future generations of professionals among other vital contributions.
The Women in Security & Resilience Alliance (WISECRA), which engages a growing network of women in security and resilience associations and groups globally, in partnership with Responsible Cyber, a Singaporean start-up building the next generation cloud-based all-in-one cybersecurity solution for Small and Medium Businesses, and MySecurity Media, a primary source of information and reference for security industry professionals, as well as end-users, are pleased to announce the Top 20 Women in Cyber Security in Singapore. Amongst the winners are representatives of leading government agencies and industry firms, from banking, finance, automotive, and consulting:
1, Alexandra Mercz
2. Alina T.
3. Indrani Chandrasegaran
4. Josephine Tan
5. Astha Keshariya, Ph.D.
6. Kimberly Chow
7. Sheena R Jacob
8. SHIN YI LIM
9. Shuchen Hu
10. Sugar Chan
11. Monika Talekar
12. Vesta Matveeva
13. Yi (Estelle) Wang
14. Jenny Tan
15. Annie Sim
16. Nan H Maguire
17. Neha Malhotra
18. Anuradha Lipare
19. Sunila Shivpuri
20. Shumawa May THIN
The top winner Kimberly Chow was awarded a leadership scholarship sponsored by the Cyber Leadership Institute, helping her moving her career to the next level. Cyber Leadership Institute has partnered with WoSEC Singapore to award a scholarship to the winner to join the October 2020 Cyber Leadership Program. Each scholarship is worth AUD$ 2,875. Kimberly will join a global class of CISOs / cyber leaders in an intensive & highly interactive online program geared to impart leadership, strategy design, influencing, and board communication skills.
Judges were representatives of leading cybersecurity identities in Singapore, Malaysia and Australia, including:
The event was moderated by Chris Cubbage, the Director of MySecurity Media and Director of Amlec House. Chris is author of Security Risk Management in Corporate Governance, co-author of Corporate Security in the Asia Pacific Region and Executive Editor for the Asia Pacific Security Magazine, Australian Cyber Security Magazine, Cyber Security Weekly Podcast and other channels, including the MySecurity Marketplace.
"By offering recognition to women working in the field,  other women may be inspired to consider cyber security as a career, which in turn helps address the imbalance," said Bonnie Butlin, the founder and international coordinator of WISECRA, a global network of female security and resilience professionals.
"The response to our call for nominations turned out to be both inspirational and informative. We have observed a broad range of capabilities and achievements among the candidates across the many domains of Cyber Security and Resilience. Powerful diversity, elite business climate, wild economic transformation and pure perfection are just some of the few things Singapore is revered for. These Singaporean and Singapore-based cyber security professionals show us the variety of possible career paths in the industry and represent strong role models, starting from very technical roles like penetration testers or ethical hackers to Chief Information Security Officers of multinational companies for current and future generations. ", said Dr Magda Chelly, co-organiser and founder of Women of Security (WoSEC) Singapore Chapter.
Magda added: "I founded the Singapore-Chapter of Women of Security (WoSEC). The WoSEC group goal's is to give the right support for female professionals in our industry, and a safe place to evolve, and expand their capabilities. We exchange about job opportunities, possible challenges in the industry, provide workshops, and organize events to celebrate each other successes, and showcase role models."
"Diversity is a core value for Responsible Cyber, and we believe change needs actions. It's important to have diversity represented in leadership positions, and encourage strong role models for future generations", adds Mikko Laaksonen, TISO and co-founder of Responsible Cyber.
The video and booklet each available via this link https://aseantechsec.com/top-women-in-cyber-security-to-be-recognised-20-winners-to-be-announced-at-virtual-awards-ceremony/
Further event details are available at www.aseantechsec.com
Media Contact:
 Chris Cubbage CPP, CISA, GAICD
Director & Executive Editor
My Security Media Pty Ltd
E: ccubbage@mysecuritymedia.com
mysecuritymedia.com