Innovating at the cross-roads of robotics, cognitive computing, and IoT, H3 Dynamics has a history of enabling the autonomy of sensors and small aerial drones using advanced hydrogen energy technologies. By bringing all of this together, H3D is set to market a range of solutions that achieve productivity gains and operational efficiencies for its clients globally.
In response to the French President's recent call to "Make the Planet Great Again", H3 Dynamics chose Paris and France's buoyant tech startup ecosystem as its European base. The Singapore company plans new R&D activities in France in areas ranging from hydrogen-electric flight to remotely operated, solar powered base stations for drones.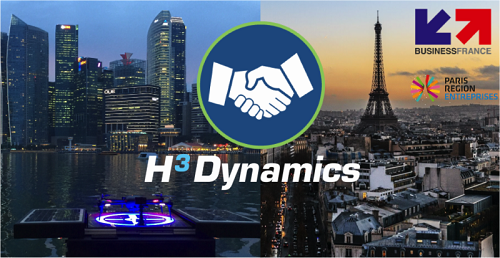 "In March 2017 in Singapore, the Prime Minister of Singapore and former French President announced 2018 as the "Year of Innovation" 
between both countries, two "startup nations" with a shared willingness to shape the future of innovation and strengthen economic ties" said Marc Abensour, Ambassador of France in Singapore. "With a European HQ in Paris and a Global HQ in Singapore, H3 Dynamics is a concrete example of this ambition." 
A WORLD 1st  at Viva Technology in Paris:
Live from Paris, we will attempt the 1st trans-continental, fully automatic drone deployment with live video feed
      – all the way from Singapore
H3 Dynamics, an IBM Business Partner and a member of Intel's Global IoT Alliance is exhibiting its automated drone solutions at Viva Technology innovation fair in Paris on June 15-17 on both the VINCI Energies Lab as well as booth G-20-021 the Discovery Zone.
AND….Come see us at the Paris Air Show!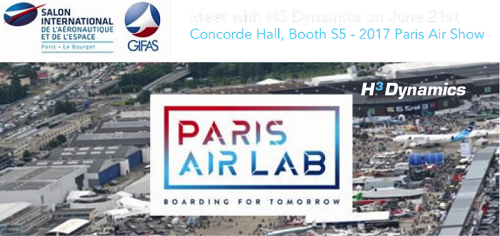 H3 Dynamics, through its partnership with the Starburst Aerospace Accelerator, will also exhibit at the Paris Air Show on June 21st, at Paris Air Labs (Concorde Hall).
From artificial intelligence to jet propulsion, nearly 100 startups will be featured throughout the week, as well as more than a dozen industrial associations, space agencies, and research centers, who will work together to present their latest collaborative innovations. We are super excited to be part of this landmark event.