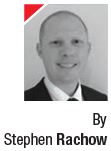 Global population growth and continual technology disruption means densely populated cities are implementing high speed and subterranean mass transportation services for high volume people movement. A shift away from traditional ground surface transportation brings its own vulnerabilities, requiring review and implementation of counter-terrorism, security, and safety measures. Capitalising on disruptive technology advancements allows exploitation of science from many industries into the security context to mitigate risks associated with these new transportation forms.
Consistent with Sun Tzu's philosophy, mitigation measures need to be implemented strategically in a sophisticated fashion so that it does not expose or create other areas of weaknesses. Sun Tzu stated,
"Should an enemy strengthen his vanguard, he will weaken his rear, should he strengthen his rear, he will weaken his vanguard, should he strengthen his left, he will weaken his right, should he strengthen his right, he will weaken his left, if he sends reinforcements everywhere, he will everywhere be weak."
Displacement of crime or displacement of targets in terrorism driven offences is a real issue, and while catastrophic risk contexts such as terrorism drive the initial implementation, we see the focus shift towards combating serious organised crime as well…Click here to read full article.